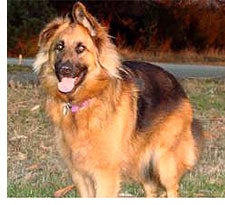 This week's Female German Dog Name Is:
Athala
Athala, which means "noble", is a 3 year old female Long-Hair German Shepherd.
Athala's nicknames are: Wolfie girl, Sweetheart, and she loves to have a ball thrown for her, swim in the water, and track & retrieve.
She also loves turkey, chicken, and lamb, especially if it's barbequed!
For more Female German Dog Names go to our main website at: Dog Names Woof
To have your dog's name and picture featured here, email the information to: Weekly Dog Names blog We look forward to hearing from you!
Tags: Female German Dog Names