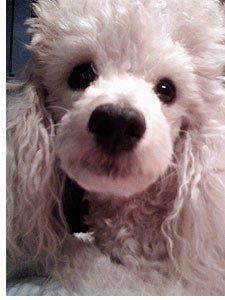 This week's male dog name is:
Ziggy
Ziggy is a 3 year old miniature poodle and has quickly become the most spoiled dog on earth. Learning how to cuddle at a very young age, Ziggy will melt your heart with his kisses and hugs (yes, I said hugs).
He is very energetic. So much so that even when you tell him you don't want his toy anymore, he will try to force it into your hand to get you to play with him. His favorite toy is an old house shoe that he refuses to let me throw away even after 3 years of chewing.
He loves going for walks and playing with the children. Sometimes I think he can tell time too. When bedtime rolls around, he whines at me to go to bed. Then once in bed, he sleeps with his head on my pillow with me only to wake me for work in the morning with his gentle nudging.
Sent in by: Trena Labowski
For more male dog names go to our main website at: Dog Names Woof
To have your dog's name and picture featured here, email the information to: Weekly Dog Names blog We look forward to hearing from you!
Tags: Male Dog Names