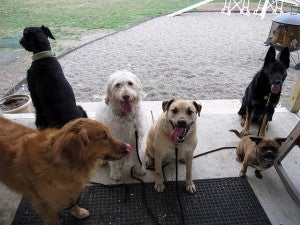 A Boarding Kennel can give you peace of mind and quality care for your dog. Kennels must adhere to strict guidelines that are determined by the American Boarding Kennel Association. The code of Ethical Conduct ensures that the kennel staff are trained by a professional and certified.
Locating the right boarding kennel is an important task. Recommendations from your veterinarian, a friend, neighbor or an animal shelter is a wise thing to do. It is very important to do a background check when you locate kennels that you are considering to use.
Check if boarding kennel inspections are required in your state. Kennels that are reputable proudly display the credentials for dog owners to see as they enter the kennel making known that they insure the safety and good care of your dog.
The kennel should require that your dog is properly immunized with the correct shots including Bordetella which is for kennel cough. The health and well being of your dog depends on his shots being up to date.
The kennel staff should conduct a tour of the facility. The kennel should be well lighted and relatively quiet. The dogs should be calm and comfortable. The living and playing areas should look and smell clean free of odors and disinfected every day to eliminate any chance of your dog contracting a disease. There should be no urine or waste in site preventing the spread of disease.
The staff should show you indoor and outdoor runs so you know that your dog will be going outside during the day for exercise and have the proper covering for the cold and hot weather. Indoors should be properly ventilated for correct air flow to all the animals. Adequate air conditioning for summer and heat for the winter is very important. The facility should have enough room for each dog so they are not crowded close to each other for health concerns. Special bedding for dogs that have any medical issues such as arthiritis, should be available. The kennel should have food and water bowls that are clean with each dog.
The kennel staff should inform you as to what type of interaction is available during the day for your dog, because they need physical and mental stimulation with activities such as playtime with the staff and other dogs, also walks. During playtime dogs should be kept together by size so there is no chance of injury. Your dog should receive individual attention from the Kennel staff if he is solely around people.
The kennel should have staff on duty at night in case there is a medical emergency. Specific steps should be in place with the kennel staff being fully knowledgeable in dealing with any problems that arise. The kennel should have a relationship with a veterinarian that is on call for 24 hours, so immediate treatment is available to care for your dog if you are unreachable. Be sure to also leave the contact information of a family member or friend in case of an emergency so they can make a decision for your dog to be taken care of if the situation arises. Some dogs have serious medical conditions, severe separation issues and special needs and need to be supervised constantly during the night, or this could become a serious problem for your dog. If your dog needs medications be sure the kennel has a system in place for delivering the necessary dose when needed. The decision to choose a kennel with staff on call all night should be a number one priority on your list when selecting a boarding kennel.
Photo credit: behavior training & coaching/Flickr