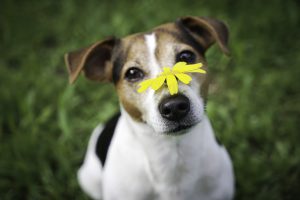 Picking the perfect name for your dog can be quite a challenge, especially if you haven't gotten to know him or her yet. It takes time to learn about your dog's personality so you can choose the best name possible. If you need some help coming up with ideas to test out, consider naming your puppy after your favorite flower or tree.
Rose – A rose is a beautiful flower that comes in a wide variety of colors and while they appear delicate, they often have thorns. Rose would be a fitting name for a dog that has a sweet personality but won't hesitate to defend herself or her family.
Daisy – The daisy is a member of the sunflower family and while they are typically white in color, they can be yellow, purple, or pink as well. If your puppy has a sweet and mild-mannered personality, a dainty name like Daisy could be the right choice.
Lily – The lily is a large flower that has long, white petals. These flowers are very beautiful in an almost exotic way so Lily might be a good name for a rare or exotic dog breed.
Ivy – Ivy is neither a tree nor a flower, but it is still a lovely plant. One thing to be wary of with ivy is that it will grow on anything and everything, just like your puppy will grow on you!
Maple – The maple tree is strong and proud and it produces a thick, sweet syrup. If you have a dog who has a sweet and sugary personality, the name Maple might be the perfect fit.
Willow – The willow tree is known for its long, slender branches which bend and flow with the wind. If you have a dog who is very patient, always going with the flow, the name Willow might suit him or her perfectly.
Blossom – The name blossom is attached to many flower plants and trees like the beautiful cherry blossom or the apple blossoms that bloom in spring. No matter which one you choose to name your puppy after, Blossom is a beautiful name.
 Clover – This name belongs to the small green plant which has three, or sometimes four leaves. Clover is often considered an Irish name but it can be given to any puppy you are lucky enough to own.
Primrose – The primrose is a small flowering plant that tends to grow in clumps. These flowers are rather dainty but in the right conditions they grow like weeds. If you have a puppy who seems shy at first but blossoms once you get to know her, Primrose might be a good name.
Buttercup – This little flower is named for its butter-yellow color and it could be a great name for a puppy with a golden coat and a sweet personality.
When it comes to naming your puppy, there are plenty of paths to take but you should consider naming him or her after something you lose. The top ten flower and tree-inspired puppy names listed above are a great place to start.
Photo credit: Kira_Yan/Bigstock