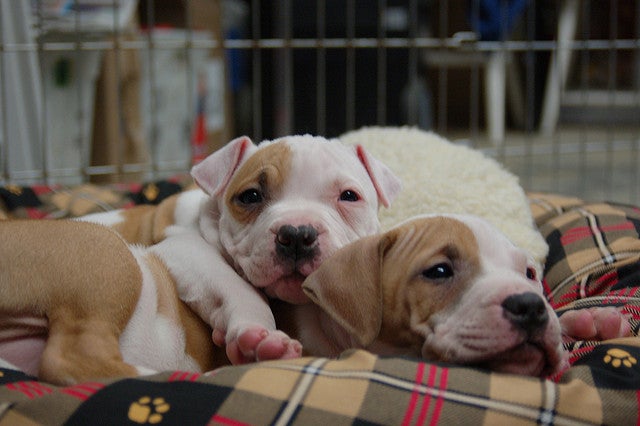 Many dog owners have two dogs. They usually prefer having a set of dogs or they feel that it is best for them to keep each other company and grow up together. These special dog owner's that take on the responsibility of raising and caring for two dogs often have a difficult time finding names for a pair of dogs. There are a variety of name options that are creative and interesting as well as expressive.
Names for Foodies
Are your puppies little foodies and enjoy eating treats? This is an opportunity to name them after food. Food pairing names include the following:
Basil and Thyme
Rosemary and Basil
Burger and Fry
Ginger and Spice
Sweet and Sour
Tater and Tots
Olive and Oil
Pickles and Peppers
Won and Ton
Cupcake and Frosting
Famous Pair Names
Are you a movie or television buff? Choosing names of dynamic duo's is a great way to express your interest in the arts as well as provide perfectly suited names for your dogs.
Barnum and Bailey
Yogi and Boo Boo
Pooh and Tigger
Mona and Lisa
Lucy and Ethel
Mo and Curley
Curley and Larry
Mickey and Pluto
Fred and Ginger
Snoopy and Charlie
Universe Weather Related Pair Names
Sun and Moon
Milky and Way
Shooting and Star
Planet and Star
Saturn and Venus
Mars and Jupiter
Sky and Night
Thunder and Clouds
Lightening and Bolt
Gravity and Magnetize
Music Related Pair Names
Donnie and Marie
Michael and Janet
Sonny and Cher
Elvis and Priscilla
Mick and Keith
Jazzy Jeff and Fresh Prince
Daft and Punk
Prince and Sheila E
Peaches and Herb
Simon and Garfunkel
Favorite Pair Names
Hansel and Gretel
Jack and Jill
Lady and Tramp
Mona and Lisa
Popeye and Olive Oil
Romeo and Juliet
Tarzan and Jane
Prada and Gucci
Chocolate and Kisses
Cocoa and Chanel
The pair names listed above is some of the most common pair names for dogs. You have the opportunity to choose whichever names you wish. You can also think of your own favorite famous duo or pair to name your dogs. Some dog owners have fun with the names and choose Marco and Polo as names. This makes it humorous when calling both the dogs at one time. Imagine being at the local dog park and you hear a dog owner call out "Marco, Polo". Chances are there will be a clutter of laughter filling the dog park.
Your two dogs are both unique and may have a strong bond. Use their closeness or personalities to inspire you to choose their names. It's wise to choose names that fit both of the dogs and uniquely express their bond as a pair. If you are having a difficult time naming your dogs ask your family and friends for help and discuss the above list of options to see which names will suit your dog's the best.
Photo credit: Crystal/Flickr