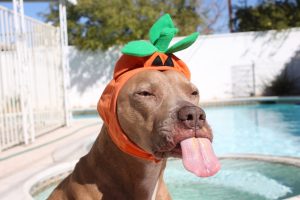 Some dogs are natural born clowns to aim to please and who love to play. If your dog has a goofy personality, you should think about giving him a name that fits. All of those traditional and cliched dog names might work for other dogs, but your dog is an individual and he deserves a name that fits who he is. Here are our top ten picks in funny dog names for goofy dogs like yours:
Droolius Caesar – This name is a pun on Julius Caesar, a Roman politician and general. If you have a dog who has a goofy personality and a tendency to drool, this could be the perfect name.
Bark Twain – Inspired by the author of The Adventures of Tom Sawyer and the Adventures of Huckleberry Finn, this name is a play on Mark Twain and the perfect dog name if you are a fan of American literature.
Jimmy Chew – Famous shoe designer Jimmy Choo is the inspiration for this funny dog name. It's a perfect fit for a dog who loves to chew, especially on shoes.
Orville Redenbarker – An American businessman, Orville Redenbacher became known for selling popcorn. This name is inspired by the father of microwave popcorn and it's a funny name for a goofy owner and his dog.
Salvador Dogi – Inspired by the Spanish surrealist Salvador Dali, this name is a great fit for an artist or for someone who simply appreciates the arts but also has a playful side. Dali's works are anything but ordinary, just like your dog!
Sarah Jessica Barker – This name is a play on Sarah Jessica Parker, the American actress who became known for her role as Carrie Dodd in Sex and the City. If you have a toy-breed dog you can carry around in a fashionable bag, all the better.
Woofgang Puck – Inspired by celebrity chef and restaurateur Wolfgang Puck, this name is a great pun. It is particularly apt for a goofy dog who loves to eat.
Notorious D.I.G. – This name is a pun on the Notorious B.I.G., an American-born rapper who is largely recognized as one of the most influential rappers of all time. You could also go with Notorious D.O.G. if that strikes your fancy a little more.
Bark Obama – Inspired by the former President of the United States, this funny dog name is a play on Barack Obama. You can earn bonus points for using this name if you have a Portuguese Water Dog!
James Earl Bones – This name is a play on James Earl Jones, American actor known for his role as Darth Vader in Star Wars and Mufasa in Disney's The Lion King.
A dog's name says something about his personality so it is worth taking the time to choose the name that is a perfect fit. If your dog defies boundaries and always finds a way to make you laugh, choose a name that suits his goofy personality like the 10 funny dog names listed above.
Photo credit: Jenn_C/Shutterstock