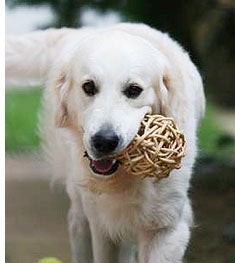 This week's Favorite Girl Dog Name is:
Phoebe
Phoebe is a 9 year old female Golden Retriever mutt whose nicknames are: old girl, and Ms. Sniffers.
She loves long hugs and will take a walk anywhere as long as she can stop and smell everything – thus her nickname!
Phoebe loves any dog food, but for human food she really loves hotdogs and scrambled eggs.
If you give her a treat, she will hide it for later. But don't watch her while she is hiding it, because she'll stop until you look away – it's a secret!
For more Favorite Girl Dog Names go to our main website at: Dog Names Woof
To have your dog's name and picture featured here, email the information to: Weekly Dog Names blog
We look forward to hearing from you!