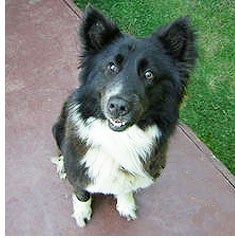 This week's German Male Dog Name Is:
Baron
In German, Baron means "Nobleman."
Baron is an 8 year old male German Shepherd – Border Collie mix who loves a good belly rub while getting his ears scratched at the same time.
His nicknames are: Baron von Muttley, Bear, and Fuzzy Face.
Baron loves to eat Pedigree Kibble, but he'll eat anything you give him, in fact, the greasier, the better!
His best trick is getting out of any yard or enclosed area making him a premier escape artist. It's probably how he ended up as a pound rescue dog – he got out of someone's yard.
For more German Male Dog Names go to our main website at: Dog Names Woof
To have your dog's name and picture featured here, email the information to: Weekly Dog Names blog We look forward to hearing from you!