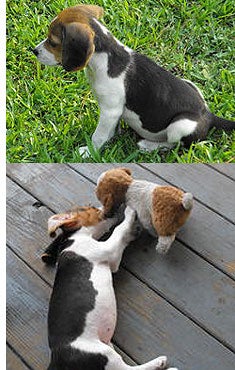 This week's girl dog name is:
Little Bit
Little Bit is a 1 year old female Beagle whose nicknames are: Itty Bitty, Bits, and Bitsy
She loves to play with her stuffed animal toys and will even fall fast asleep with one still in her mouth!
Little Bit's favorite food is puppy chow, but she also loves cheese, which she isn't allowed to have very often.
She loves to go on a walk, but is still too small for the dog park.
That's Ok, because there is so much stuff to sniff just on the sidewalk and surrounding fields that she is more than happy, and it keeps her eager Beagle nose occupied!
For more girl dog names go to our main website at: Dog Names Woof
To have your dog's name and picture featured here, email the information to: Weekly Dog Names blog We look forward to hearing from you!