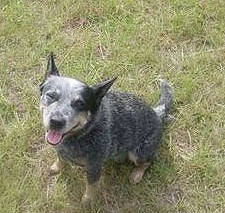 This week's female dog name is:
Shayna
Shayna is a 7 year old female Australian Cattle Dog / Blue Heeler who loves to eat anything as long as it's people food!
Shayna's nickname is: Shayna Badayna.
She doesn't particularly like to go for a walk – she would rather go for a run! She is a very high energy dog!
Shayna's favorite toy is a hard rubber ball because it bounces and bounces and never tires out just like her – and her best trick is a back flip!
For more female dog names go to our main website at: Dog Names Woof
To have your dog's name and picture featured here, email the information to: Weekly Dog Names blog We look forward to hearing from you!
Have a great day!