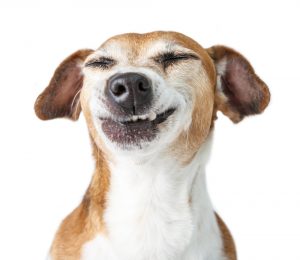 A dog is more than just a pet, he's a member of the family, but that doesn't mean you can't have fun naming him! A dog's name speaks to his personality as well as yours, so take the time to choose a name you like. If you don't want to go the traditional route or pick an overused cliché, think about going the other way with one of these twelve puns for dog names:
Hairy Pawter – Inspired by the popular young adult series Harry Potter, this clever spin on the title character's name could be a funny name for your dog. Bonus points if he really is hairy!
Chewbarka – This name is inspired by Chewbacca, the Wookie from Star Wars. Not only is this name a funny pun, but it is apt for a dog as well because the inspirational character is covered in hair as well.
Sherlock Bones – All your dog needs to rock this name is a pipe and a hat – even better if he has a strong nose to sniff out crime. This name is inspired by the private detective Sherlock Holmes created by Sir Arthur Conan Doyle.
Boston Powers – This name is particularly apt for a Boston Terrier and it is a reference to the movie Austin Powers. The title character is a little off his rocker, so this name is perfect for a dog who may not be the brightest bulb in the box but has a lot of fun.
Mary Puppins – Inspired by Mary Poppins, this name would be a cute name for a female dog. It's particularly fitting for a dog who spends a lot of time around children.
Winnie the Pooch – This name is inspired by the children's series Winnie the Pooh which features a honey-loving bear and his friends.
Pawdry Hepburn – Known for her role in Breakfast at Tiffany's and other movies, Audrey Hepburn was the inspiration for this pun name.
William Shakespaw – If you're a fan of literature, this take on William Shakespeare's name might be the perfect pun name for your dog.
Ally McBeagle – The main character in the American comedy series of the same name, Ally McBeal is the inspiration for this name. Ally McBeal was a young attorney who is forced to work with her ex-boyfriend in a legal-comedy that ran for 5 seasons.
Jabba the Mutt – This name is a pun on Jabba the Hutt, a character from Star Wars. This name is particularly apt for a dog who has a lot of wrinkles.
Scarlet O'Hairy – A reference to the main character in Margaret Mitchell's Gone with the Wind, Scarlet O'Hairy is a great pun name for a female dog.
J.K. Growling – Inspired by the Harry Potter author J.K. Rowling, this name is one that everyone who hears it will understand.
Your dog lives to make you happy, so doesn't a funny dog name seem like the perfect fit? If you want a dog name that will give you endless amusement while still speaking to your dog's goofy personality, consider one of the top 12 punny dog names above.
Photo credit: Kalamurzing/Shutterstock