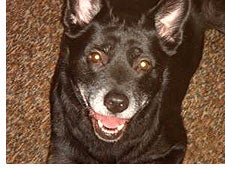 This week's girl dog name is:

Midnight
Midnight is an 8 year old female Labrador Retriever mix whose nicknames are:
Mimoos, dove dove, popper, kisses, mid, middy, and min.
She loves to lounge around the house and sleep, and her favorite food is ham!
Since she doesn't like being on a leash, Midnight stays in the backyard a lot, but she is a very lucky dog because she was dropped off in front of an elementary school where one of the teachers claimed Midnight for her niece and she has had a wonderful home ever since
For more girl dog names go to our main website at: Dog Names Woof
To have your dog's name and picture featured here, email the information to: Weekly Dog Names blog We look forward to hearing from you!
To read Midnight's full bio go to: http://www.dogster.com/dogs/494877