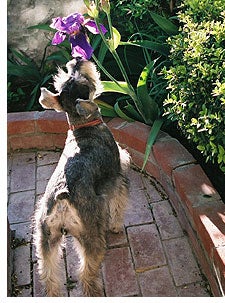 This week's name is:
Mattie
This great name and picture was sent in by one of our readers, and as you can see, Mattie loves to smell flowers!
Mattie is short for Matilda. She is a 10 month old Miniature Schnauzer who was adopted by her loving family when she was 6 months old.
As her human companion Jo Ann Casper states:
"We just returned from a trip to the mountains where Mattie announces when deer are approaching the yard. She screeches, and barks, and jumps up and down, with her nose pressed against the window. Normally she is mellow and laid back, but when she spots a deer, it's complete havoc until it leaves."
"This past weekend a bear trotted through the side yard. We were on the front porch. I quickly put Mattie inside. I can't imagine what she would have done if she saw it."
Overall this is a great picture and Mattie is very cute!
If you have a dog name and picture you would like to share with us, please send it in to: Dog Name of the Week
We would love to hear from you, and we'll post your picture and information here for all our readers to see!
For more dog names: http://www.dognameswoof.com
Tags: Favorite Girl Dog Names, Female Dog Names, Girl Dog Names