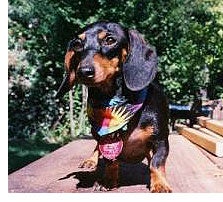 This week's Female German Dog Name Is:
Schatzi
Schatzi, which means "litle treasure" or "darling", is a 5 year old female Miniature Dachshund.
Schatzi's nicknames are: Schatzilah and Cocktail Wiener, and she loves to eat anything! In fact her favorite walk is anywhere she can find food, and especially cheese.
She also loves her toys Chuck a Duck and Mr. Hedgehog. The only thing she doesn't like is the vacuum cleaner which she is assured is a big noisy monster.
For more Female German Dog Names go to our main website at: Dog Names Woof
To have your dog's name and picture featured here, email the information to: Weekly Dog Names blog We look forward to hearing from you!
Tags: Female German Dog Names