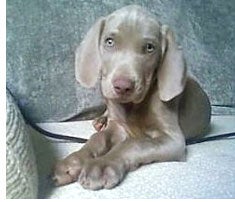 This week's female dog name is:
Bella Bleu
Bella Bleu is a 2 year old female Weimaraner who loves to eat and attack the grass, sit on the couch, and play "chase me' in the house.
Bella Bleu's nicknames are: Bella, Blue Girl, and Bluebell.
She also loves to play in the nearby stream and to eat raw hide and cat food!
Bella's favorite toys are her blue ball, a white furry puppy, and water bottles.
For more female dog names go to our main website at: Dog Names Woof
To have your dog's name and picture featured here, email the information to: Weekly Dog Names blog We look forward to hearing from you!
Have a great day!
Tags: Favorite Girl Dog Names, Female Dog Names, Girl Dog Names