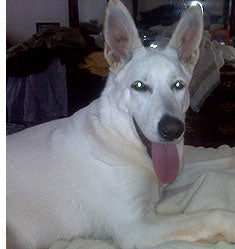 This week's Unique Dog Name is:
Treasure Planet
Treasure Planet is a 9 month old, female, all white German Shepard!
She loves chasing and playing with the kids.
After her best friend, a 7 year old boxer called "Deja-Vux" died this past summer, our 4 year old son said he wanted a white dog.
He named her Treasure Planet so that's the name we found!
Send in by J. Harris.
For more Unique Dog Names go to our main website at: Dog Names Woof
To have your dog's name and picture featured here, email the information to: Weekly Dog Names blog
We look forward to hearing from you!
Tags: Unique Dog Names