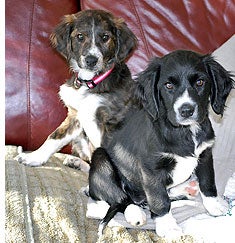 This week's dog names duos are:
Dixie & Trixie
Dixie and Trixie are two female mixed breed, (Labrador, Bassett hound and Spaniel), 10 week old pups.
They were rescued from a kill shelter in Georgia and now reside in PA.
Even though they are now "Northerners" we wanted to stay with a southern theme for their names!
They just love the outdoors, and snuggling together on the sofa. We are so pleased to have them!
Sent in by: The Jones Family
For all our dog names duos go to our main website at: Dog Names Woof
To have your dog's name and picture featured here, email the information to: Weekly Dog Names blog We look forward to hearing from you!
Have a great day!
Tags: Dog Names Duos