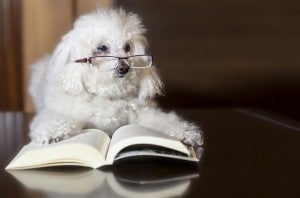 As you welcome your newest member of the family into your home, there are many important steps to take to make sure your home is completely safe. Pet parents should realize that the way you decorate your home could have objects that could be dangerous to your dogs' health and well being.
Dogs are curious and want to explore their surroundings and think that everything they see is just for them to play with or chew on. The kitchen is one of the most dangerous places that your dog will have access to, the aromas will make this a fun place for your dog to want to be in. Be sure not to have any food that could make him sick on your table or counter tops, limit his access to have the capability to jump up and eat, also sharp objects or drinking glasses that he could knock down on him with his paw. Remove all cleaning supplies from under your cabinet, such as your dish and laundry detergent, any harmful chemicals that come in plastic bottles. These items can be chewed and your dog could swallow the liquid and be poisoned. Dogs love to chew on plastic bags because of the noise, but they are a choking hazard and if they put their face in it they can suffocate. Garbage cans should have a cover on them so your dog will not be able to pull it down and get into any food that he could choke on, or you could put it under a counter that is able to shut securely.
The bathroom has a number of hazards that could hurt your dog. You and your family should be very careful not to leave harmful products within his reach that can be swallowed easily. Cotton swabs, soap bars, shampoo, razors, pills, tissues. Hair dryers should not be left on the counter that he could chew on the cord easily and have it fall on his head. These objects should always be kept in a drawer or inside a cabinet.
The main place that the entire family gathers together is the family room or living room. Keeping the items in order that we use most in our main living areas is also very important. Electric cords should not be visible or easy to access. Blankets and pillows could be put in storage bins to match your décor so your dog will not be tempted to chew on them or drag them around the house. Decorative items or your favorite knick knacks that are breakable should not be on end tables or the coffee table, a high shelf would be a better choice for these special items. Common house plants that may be poisonous should not be easy for your dog to reach. Children's toys, arts and crafts and sewing supplies are a choking hazard and should be safely put away.
Your bedroom is a special place for your dog because anything that smells like you he will be drawn to. Clothing, slippers and shoes are like toys to your dog. Store shoes in the closet as well as your clothing and put laundry in a hamper that is tall and out of your dog's reach. Small items that he can choke on such as coins, hair ties and jewelry should be stored safely in drawers. Lotions, cosmetics or medicine on tables next to your bed should be out of reach.
Taking special care to make your entire home and making it safe for your dog is the best thing you could do for your dog and for your peace of mind. Knowing you have protected him completely, will make your life together safe and happy.
Tags: dog proofing your home