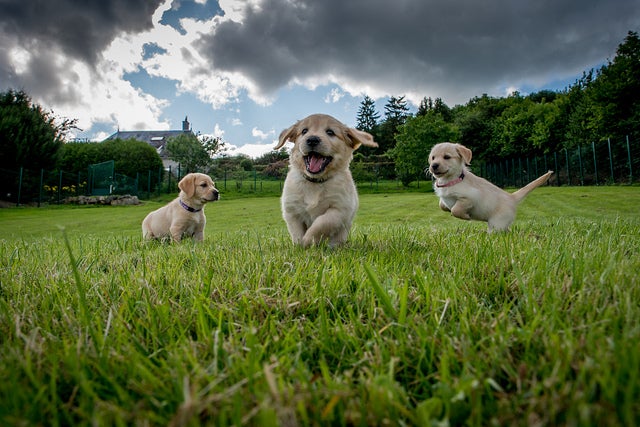 Do you have a litter of puppies to name? Or, do you have several pet dogs that you need names for? Naming a group of dogs can be a challenging task for many dog owners. The good news is there are plenty of names to go around and you just have to choose the name that suits each specific dog the best. There are also other interesting ways to name a group of dogs that is listed below.
Movie Ideas – One of the most popular ways to name a litter of puppies or pack of dogs is by using names from movies. 101 Dalmatians is a popular movie to use. Whether the litter has spots or not it is a fun and easy way to choose names for each individual pup.
Cartoon Ideas – Dog owners that are cartoon enthusiasts or who have children that enjoy watching cartoons can use the names of their favorite characters. Disney cartoons are a popular choice. The usual Mickey, Minnie, Donald, Goofy and Pluto are great options. If you have a specific cartoon movie you can use the character names as well.
Royal Names – There are many dog owners who are royal enthusiasts and enjoy learning every detail about the monarchy. You can choose royal names in history for your litter of pups. There are a variety of royal families located throughout the world, so if you have a few litter of puppies to name, this is a great option.
Candy Names – Almost everyone has a sweet tooth. If you are a candy lover you may want to consider naming your pack or litter of puppies after a variety of delicious sweet candy. The names Almond Joy, Snickers, Hershey's, Smarties, Mints, Butterfinger and other candy are a great way to name a sweet bunch of puppies.
Car Names – You may have a hobby or interest in a variety of car styles. You can name your litter of puppies after cars such as Mercedes, Porche, Ford, Chevy, Fiat, Ferrari and much more! You can even include names such as Harley, Davidson if you prefer motorcycles.
Fish Names – While the world of fish and dogs don't usually mix well together, it is an option to name your litter of puppies if you enjoy fishing. There are plenty of names such as grouper, catfish, cod, salmon and many more that you can choose from.
When naming a litter of puppies it may be difficult to tell them apart at first. You may want to create small name plates on each pup's collar until you are able to tell them apart by specific markings and personalities. Also using car, fish, cartoons, movies and candy names for your litter will help you remember their names easily, since all the names belong to a group. Most of all have fun naming your puppies and be creative. There are a variety of name options that will allow you to choose the best name that suits each individual pup as well as make it clear that they belong to a large group, litter or pack.
Photo credit: Chris Ballard/Flickr
Tags: dog duos, movie names, puppy names, tips for naming dogs