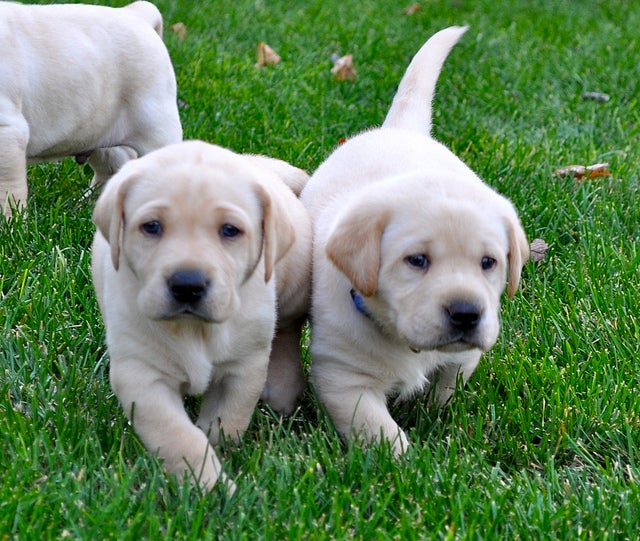 The only thing better than bringing home a new dog is bringing home two new dogs! Of course, then you are faced with the dilemma of what to name not just one but two new family companions. If you are looking for the perfect name for your furry friends, consider these top ten couple names which might be the perfect fit!
Sonny and Cher – An American pop duo, Sonny and Cher won the hearts of America during the 1960s and 1970s. The pair is known for their famous songs "Baby Don't Go" and "I Got You Babe".
Homer and Marge – The husband-wife pair from the animated sitcom, The Simpsons, Homer and Marge were always at each other's throats but they still loved one another. This show is set in a fictional Springfield and it is in its 27th season.
Captain and Tenille – American recording artists, Captain and Tenille were a husband-wife duo who topped the charts during the 1970s. "Captain" Daryl Dragon and Cathryn Antoinette "Toni" Tenille had five albums that made gold or platinum and their most enduring hit was Love Will Keep Us Together.
Gomez and Morticia – The famous couple from The Addams Family, Gomez and Morticia were deeply in love – as strange as that love might be. The cartoon was created by Charles Addams and was eventually made into a television series and several films.
Elvis and Priscilla – For the music lover in you, Elvis and Priscilla are the perfect couple's dog names. Elvis Presley is still known as one of the most significant cultural icons of the 20th century and his wife Priscilla turned Presley's home, Graceland, into one of the top tourist attractions in the U.S.
Bonnie and Clyde – The perfect names for a pair of mischievous mutts, Bonnie and Clyde were the infamous American criminal pair who robbed banks during the Great Depression. The pair was depicted in a 1967 film where they were played by actors Faye Dunaway and Warren Beatty.
Romeo and Juliet – If you are a fan of classic literature or theater, the names Romeo and Juliet should be very familiar to you. The main characters from one of Shakespeare's best-known works, this couple may have been doomed from the start but their names will always be remembered.
Bianca and Jagger – Mick Jagger, the lead singer for The Rolling Stones, was married to Bianca Jagger, a human rights activist. If you are a fan of classic rock, there is no better set of names for your dogs than Jagger (or Mick) and Bianca!
Rocky and Adrienne – If you are looking for a pair of names that represent strength and resilience, there is no better name than Rocky and Adrienne. Rocky is the rags-to-riches story of an American boxer (played by Sylvester Stalone) who worked his way up to the world heavyweight championship with his love interest, Adrienne, by his side.
Fred and Ethel – Named after the neighbor couple on the I Love Lucy show, these names are perfect for a goofy pair of dogs. If these names don't suit your new dogs, consider the names of the stars of the show, Lucy and Ricky!
The task of naming your dog is certainly not the easy one and you double the challenge when you have two dogs to name! If you are looking for a fun name for your new dogs, why not consider these famous couple names!
Photo credit: Lisa L Wiedmeier/Flickr
Tags: dog couple names, dog name duos, famous couples, TV couples