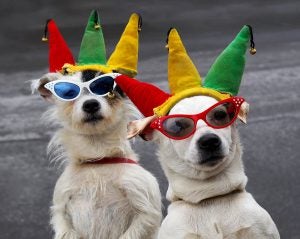 When it comes to naming your dog, you don't have to go with a clichéd or a traditional name – something silly or creative can be a lot of fun! Whether you are looking for a name that is completely unique or you want something that will inspire a laugh, these top ten wacky dog names are a great place to start. You do not necessarily have to pick one of these names for your own dog, but they might inspire you to come up with something wild and wacky all your own.
Baron von Furrypants – This name was given to a Labrador Retriever owned by Kathy Warren and her family. Warren decided on this name because they wanted something that sounded regal but had a fun side to it as well.
Smiley Cyrus – When Crystal Coker brought her new Chihuahua puppy home she noticed the puppy's tendency to smile, she named the dog Smiley – the addition of Cyrus to the name was included because Coker always gives her pets silly names.
Abraham Lincoln Continental – This name belongs to a Catahoula-Husky mix who was adopted by a young man named Ryan. The dog's original name was Linkin (after Linkin Park) but Ryan renamed him after Abraham Lincoln and the Ford Lincoln Continental car.
Nutmeg Spice O Paris – Becky Summers was given a Pomeranian puppy from her dog breeder mother and, though she wasn't sure she wanted a small dog, she soon fell in love. Summers named her dog Nutmeg Spice O Paris after the nutmeg color of the dog's coat and "O Paris" is an adaptation of the dog's bloodline, "O Paradise".
Rosie Picklebottom – When Heather Krieger asked her children what to name their new Dachshund puppy, she asked them what the dog looked like for inspiration. The kids decided that her fur had a reddish tint and her long torso looked like a pickle – thus the name Rosie Picklebottom was chosen.
Hamburger Patty – This name belongs to an English Bulldog who was originally named Patty but was given the moniker Hamburger after her love for food and her hunger for making new friends. Patty gobbles up opportunities to meet new people in the same way people gobble up hamburgers.
Artoo Dogtoo – This pup has a rags-to-riches story, having gone from a nameless foster dog to being adopted by Annette de Soto. Because Annette and her family already had one dog, they nicknamed the foster Dog Two which evolved into a Star Wars-inspired name, Artoo Dogtoo.
Parker the Barker – One day Ron Harken was driving to Indianapolis to save a puppy mill Havanese from foster care. After obtaining the dog, Harken spent the night in a hotel where the dog barked the whole night through, earning him the name Parker the Barker.
Peanut Wigglebutt – Christine Edwards brought home the runt of a Dachshund litter who had enough personality to fill ten dogs. When they first met, the puppy wagged his tail so hard he almost fell over, earning her the name Peanut Wigglebutt.
Zippity Do Dawg – When Jill Hicks brought home a Queensland Heeler, her love for Disney inspired her to name the dog after a Disney tune – she chose the name Zippity Do Dawg.
The top ten wacky dog names listed above are a great place to start if you are thinking about a witty or a funny name for your new puppy. Any of these names would be a good option, especially if your puppy has a bit of a goofy side.
Photo credit: Michel Loiselle/Bigstock
Tags: Funny dog names, Wacky Dog Names